*December 2016*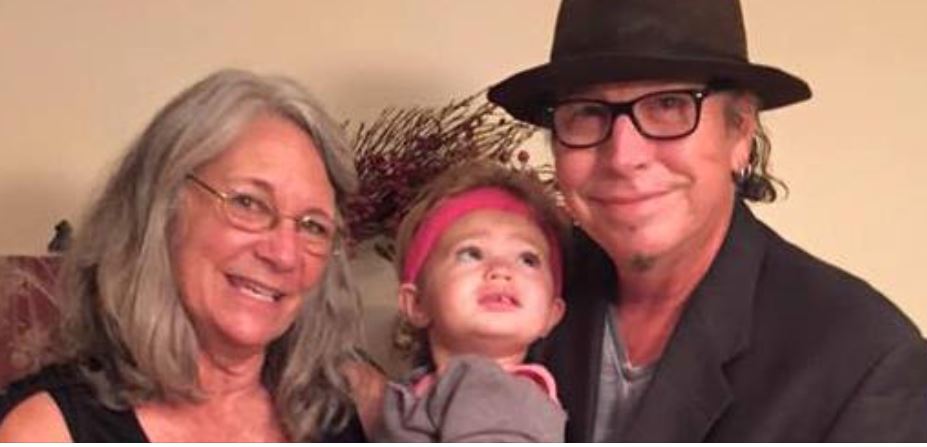 »Terry is on Patreon!
Join the
Inner Circle!
---
*May 2016*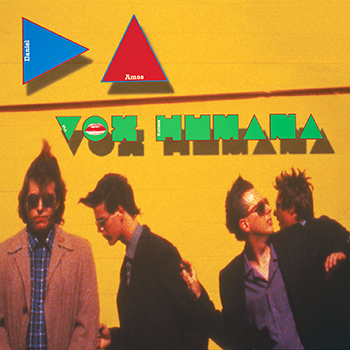 »Vox Humana (2-CD Remastered Deluxe Edition)!
Hang on to your rocket packs! What you've been waiting for! DA's classic Vox Humana album in an expanded 2-CD Remastered Deluxe Edition!
The Stunt team has put the same care and enthusiasm into putting this project together as you've seen from the previous DA Deluxe Edition releases. Disc one of this collection presents the entire Vox Humana album, carefully and respectfully remastered. Disc two includes 17 bonus tracks, including alternate versions of album tracks - never before heard by the public, alternate mixes and more! The beautiful 6-panel Digipak and 24-page booklet presents all of the original LP artwork, along with never-before-seen photos, DA memorabilia, complete credits and lyrics and the entire text of the Alarma! Chronicles Volume III.
Released June 2016!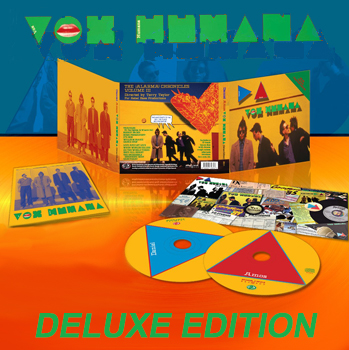 ---
*September 2014*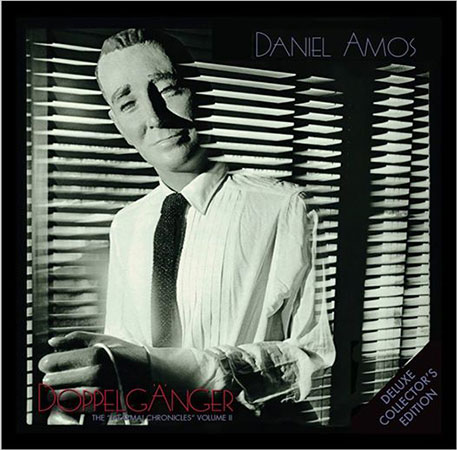 »Doppelganger (2-CD Remastered Deluxe Edition)!
Here it is folks! What you've been waiting for! DA's classic Doppelganger album in an expanded 2-CD Remastered Deluxe Edition!
Disc one of this collection presents the entire Doppelganger album, carefully and respectfully remastered by J Powell at Steinhaus. Disc two includes 17 bonus tracks, including alternate versions of album tracks - never before heard by the public, alternate mixes, early takes, and more! The beautiful 6-panel Digipak and 24-page booklet presents all of the original LP artwork, along with never-before-seen photos, DA memorabilia, complete credits and lyrics and the entire text of the Alarma! Chronicles Volume II.
ORDER NOW!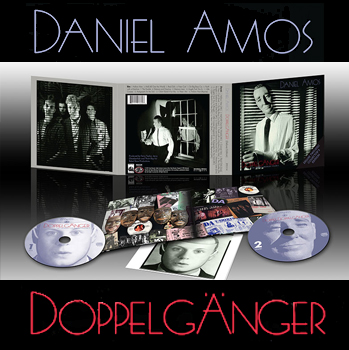 ---
*Summer 2013*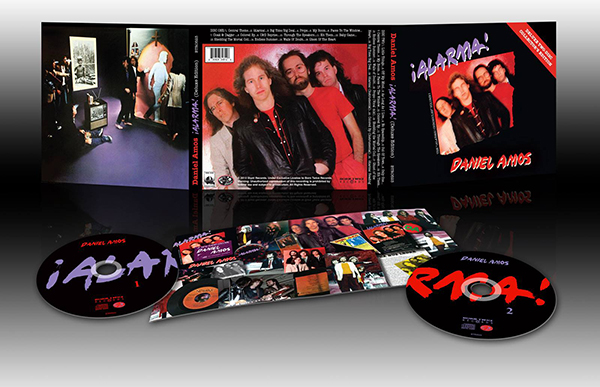 »¡Alarma! (Remastered Deluxe Edition)!
Oh, crud! With all of this attention going to the BRAND NEW Daniel Amos album,
Dig Here Said the Angel
, did we forget to mention the new 2-Disc Deluxe Remastered ¡Alarma! re-issue? Yeah, well, crud. Ahem... Hey! Check this out! Remastered by J Powell, this is ¡Alarma! like you've never heard it before. It shimmers and shines and has a beautiful warm bottom end. (Easy now...) Did we mention the 21-song bonus disc, filled with demos, outtakes, alternate mixes and a 7-minute reading of the Chronicles by Malcolm Wild? And the 28-page booklet filled with unseen photos and memorabilia? Well, crud. How did we forget to mention this? Oh, yeah, we've been busy this summer putting out new records and whatnot. Well, here you go. Go get it on the DA webstore!
ORDER NOW!
After you order the 2 CD Deluxe Edition of Alarma, you can get 16 more bonus tracks available as a download-only in our bootleg store!
Here's the link:
http://danielamosboots.bandcamp.com/album/alarma-bonus-bonus-disc
---
*Summer 2012*
»NEW MUSIC from Daniel Amos in 2013!
Let's get Daniel Amos off of their butts and back into the studio in 2012!
How would you like to partner with Daniel Amos to get them back into the studio to make a new album in 2012? Now is your chance!
As we all know, due to a variety of issues, Daniel Amos has not recorded a new album since 2001's "Mr Buechner's Dream." Well, it's way overdue for the band to make a new album and you can be a part of it! After many months of planning, we are launching a Kickstarter Campaign to raise enough money to to pay for studio time and the band's travel expenses to make a BRAND NEW album! An entire album of brand new music from Daniel Amos and it can only happen with your help!
If you are unfamiliar with Kickstarter, this is an all or nothing effort folks. Heres how it works. You pledge a certain amount of money to help DA. Your card is not charged unless the project is fully funded. So, if we get to September 6th and we don't have our goal - nothing happens. You keep your money and DA doesn't make an album. If we hit September 6th and we do reach our goal, your credit card is charged by Amazon and DA begins the process of making a new album. We then keep you updated on the progress and begin filling whatever "rewards" you should receive based on your pledge. If at any time you decide you'd like to pledge more, you are able to do that and your "rewards" will be updated to whatever level you pledge.
http://www.kickstarter.com/projects/946153346/new-music-from-daniel-amos
This campaign begins NOW and will end on Thursday Sep 6, 7:14pm EDT
We're asking for your help not only with pledges, but to get the word out. There are enough DA fans out there that this should be easy, but if we fall short, it will most likely be because a lot of people didn't hear about this effort. Help us spread the word. Whether its on Facebook, or in email, on message boards or anywhere else - get the word out.
Lets make this happen!
---
*Spring 2010*
»The Lost Dogs "Old Angel" & Glory Road Tour!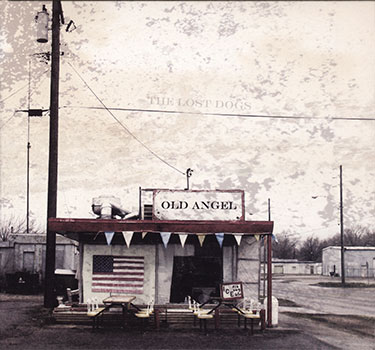 We are proud to announce the release of The Lost Dogs Route 66 album, "OLD ANGEL," on May 11th. This is a one of a kind recording, a story told in each song. Your listening experience will feel like you were along for the ride. It's the next best thing!
ORDER NOW!
"OLD ANGEL" includes 15 brand new songs penned by Terry Taylor, Steve Hindalong, Mike Roe and Derri Daugherty!
"It's my belief that Old Angel reintroduces listeners to the band the Lost Dogs, gives up one of the best offerings they've ever made and positions them as one of the best Americana rockers you've likely never heard."
(
popdose
)
"You don't so much listen to Old Angel as bask in its glow. It is a shimmering musical landscape mixing achingly beautiful melodies with a brilliant palette of musical styles and nuances. The album mixes influences ranging from old time rock'n'roll, folk, country, folk/rock, rockabilly, country/rock and Beach Boys harmonies into a cohesive whole."
(
Examiner.com
)
"OLD ANGEL" is also available on
iTunes
.
Keep checking
online concert calendars
for summer tour dates.
---
*Spring 2009*
»An Intimate Evening With Terry Scott Taylor!
2009 Tour Featuring: Terry Taylor, Steve Hindalong and Andrew Taylor
You are cordially invited to spend a rare and intimate evening of story and song with Terry Scott Taylor.
Terry Scott Taylor is a man who wears many hats. Singer. Cowboy hat. Songwriter. Baseball cap. Father. Fedora. Producer. Prophet. Prankster. Pioneer. As the founder of legendary CCM band Daniel Amos he helped pioneer a new artistically-minded aesthetic in a musically stunted genre. As the merry prankster behind the Swirling Eddies he became a supreme satirist while continuously shedding musical skins. As chief songwriter for the Lost Dogs he brought modern maturity to the old forms and helped make them relevant to new generations. As a composer for video games and cartoons he brought his quirky genius to bear in a field that had been rendered dull and void by electronic keyboards. As a solo artist he laid bare his personal life—its triumphs and tragedies—and made his story our story as well. Some of his songs are limericks. Some are literature. He's flown under most of the radar for more than 30 years but those in the know rank him among our greatest living treasures.
Out of a deep humility he usually works within the context of a band of musicians in order to take a little of the heat off himself. Not this night. This night, joined occasionally on stage by special guest Steve Hindalong and Terry's son Andrew, and armed only with a guitar and his incredible collection of hats, audiences will discover the real Terry Taylor. Intimacy is the name of the game and everyone is invited to play along. Songs. Stories. Answers. You'll hear them all like never before. Come witness the mind of a visionary, the heart of an artist and the soul of a fellow pilgrim.
Joining Terry on stage for a select number of songs chosen from his extensive repertoire of Daniel Amos, Swirling Eddies, Lost Dogs, and solo recordings, will be special guest Steve Hindalong ( Lost Dogs' member, founding member of The Choir, creator and producer of the 'City on a Hill' series, and co-writer of 'God of Wonders'). The ever illusive Camarillo Eddy, founder of 'The Swirling Eddies, is rumored to appear as well. We are also thrilled to announce that for the very first time ever, Terry's son Andrew will also join his father on stage.
Terry will not only entertain you with humorous and moving anecdotes and songs, he will offer readings from his forthcoming book of collected non-fiction, lyric recitations and commentary, and perform a variety of familiar songs as well as those rarely, if ever, performed in a live setting. At selected venues the evening will be capped off with an audience participation Q&A.
An Intimate evening with Terry Scott Taylor promises to be a surprising, 'don't miss' one-of-a-kind event.
A note from Terry: "As far as live performances go, I don't believe I've done anything quite like this before. I think the audience, which is really more a gathering of close friends and family, is in for some real surprises including a few firsts. Now, the mysterious Camarillo Eddy says he'll show up, but you never know about that guy. On the other hand, I know the great Steve Hindalong will be there to join me on a number of tunes. I've got to say however that my greatest thrill concerning this tour is that my son Andrew will, for the very first time in my 30 plus years of performing, be joining me on stage. I'm extremely proud of him and can't wait for folks to meet him. The song selection should be surprising as well. It's eclectic, unpredictable and culled from every musical entity I've ever been involved with down through the years. At many of the shows I'm planning to field questions from the audience and, if I know my crowd at all, this should prove quite interesting. I may even get Steve to do his leprechaun dance and also that thing where he flips a coin into the air and catches it behind his back. Now that's a show!
"We all essentially agree that we're living in fairly dark and unpredictable times. I'm prayerfully determined to lighten the audience's load a bit and do so through laughter, some challenges, and more importantly some heart-felt inspiration. (Oh, by the way, I've got some road stories to tell which, in some instances, are truly weird and astounding.)
"Anyway, in the words of Sam the Sham 'Let's not be L7!' Come on out to the show and let's all have a wonderful time together." - Terry Taylor
Please contact us as soon as possible if you are interested in booking a show on this tour or if you're interested in assisting a promoter.
The tour dates are listed below.
Thank you so much for your support!
Linda A. Miller 541-729-7771
LAM PRODUCTIONS
Artist Management and Promotion
1631 Adkins St, Eugene, OR 97401
Linda@LAMConcerts.com
http://lamconcerts.com
The "bold" dates are confirmed. The "highlighted" dates are open and available. This is a work in progress so some of the tentative dates are subject to change.
7/3 Friday - Terry Taylor & Friends @Cornerstone
7/3 Friday - The Lost Dogs @ Cornerstone
7/4 Saturday - St Louis, MO [tentative]
7/5 Sunday - Clayton, IN [tentative]
7/6 Monday - open/available
7/7 Tuesday - open/available
7/8 Wednesday - Trinity House, Livonia, MI (Detroit area)
7/9 Thursday - Youngstown, OH (Cleveland, Pittsburg area) [tentative]
7/10 Friday - Buffalo, NY [tentative]
7/11 Saturday - Blackwood, NJ (Philadelphia area) [tentative]
7/12 Sunday - Sommerset, NJ [tentative]
7/13 Monday - open/available
7/14 Tuesday - Sterling, VA [tentative]
7/15 Wednesday - Athens, GA [tentative]
7/16 Thursday - Atlanta, GA [tentative]
7/17 Friday - Chattanooga, TN [tentative]
7/18 Saturday - open/available
7/19 Sunday - Tampa, FL [tentative]
7/20 Monday - open/available
7/21 Tuesday - Pensacola area [open/available]
7/22 Wednesday - open/available
7/23 Thursday - Memphis, TN [tentative]
7/24 Friday - Denham Springs, LA [tentative]
7/25 Saturday - Houston, TX [open/available]
7/26 Sunday - San Antonio, TX
7/27 Monday - Austin, TX [tentative]
7/28 Tuesday - Dallas, TX
7/29 Wednesday - Bartelsville, OK [tentative]
7/30 Thursday - Wichita, KS [tentative]
7/31 Friday - Kansas City [open/available]
8/1 Saturday - Ames, IA [tentative]
8/2 Sunday - Hampton, IL (Moline area) [tentative]
(All dates are subject to change)
---
*FALL 2008*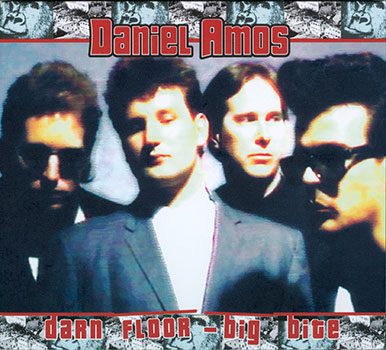 »DARN FLOOR - BIG BITE (20th ANNIVERSARY DELUXE EDITION)!
As many of you have already heard, DA's ahead-of-its-time 1987 release, "Darn Floor Big Bite," is returning as a Deluxe 2 CD set on November 25, 2008. The entire album has been remastered from the original master tapes and includes 20 pages of brand new artwork and photos, interviews, and plenty of bonus material. The Deluxe Reissue, which is being released through a joint effort between Stunt Records and Arena Rock Recording Co. is now available for preorder at www.DanielAmos.com!
(Note: This is a limited preorder. Only 250 copies are available prior to the release date. Preorders through the Daniel Amos webstore will ship immediately from the distributor before orders from other websites)
---
*SPRING 2008*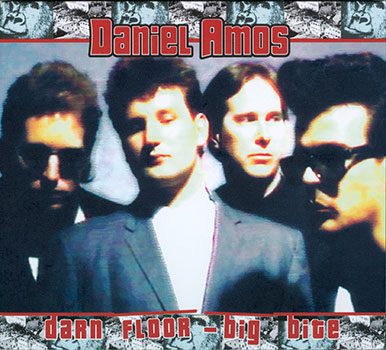 »DARN FLOOR - BIG BITE (DELUXE EDITION)!
The front page says it all... the reissue you've all been waiting for! DA's way-ahead-of-its-time 1987 release,
Darn Floor - Big Bite
, is finally returning to CD in the form of a 2 disc remastered Deluxe Edition with new artwork, liner notes and never-before-heard bonus material. We're very excited about this joint project between Stunt Records and the Arena Rock Recording, co.
»RETURNING CLASSICS!
Some of the rarities and oddities of years past will be making a return in the near future. Some will be taking on new forms and new looks, some will be expanded and re-invisioned. Keep watching this page, the DA news list and the DA webstore for more information. The first titles to re-appear should be the 1988 EZ listening fan club project from the Swirling Eddies,
Swirling Mellow
and The Terry Taylor / Michael Roe collaboration,
All Day Sing and Dinner on the Ground
- which will be released in a jewel case for the first time.
»WARNING: COUNTERFEIT "Vox Humana" CDS!
Some unscrupulous folks have been cashing in on DA's music by making cheap, knockoff counterfeit CDRs and selling them on Ebay and to a few online stores. The primary title that is currently being ripped off is "Vox Humana." Please be extremely cautious when ordering CDs of "Vox Humana" online - even when ordering from an otherwise decent store. At this time, I do not know of any legitimate seller of large quantities of "Vox Humana" CDs so beware of anyone selling multiple copies (usually for $9 or $10.. sometimes listed as an "import.") These are not real CDs and no money goes to the band. Don't reward this behavior by ordering these cheapo ripoffs. The counterfeiters and the stores buying them should be sent a message that its not ok to rip off your favorite bands.
If you need a copy of Vox Humana, please visit our store page and pick one up from the band.
---
*FALL 2007*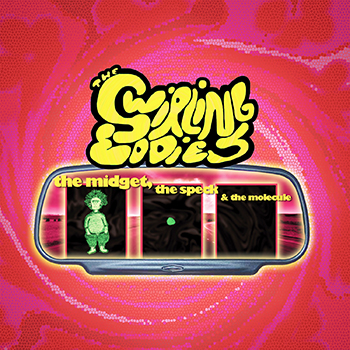 »THE MIDGET RELEASED!
The brand new album from the Swirling Eddies,
The Midget, the Speck and the Molecule
, has been released and available in the DA webstore!
A big special thanks and a hearty-fhardy
WHOAAHH NELLY
to everyone that preordered and made this project possible. For their patience, preorderers received advance previews of the album artwork, track list, rough mixes of songs and the inside scoop from Camarillo himself in a private section of the DA message board.
The Swirling Eddies are definitely back!
---
*March 2007*
»NEW DVD FROM DANIEL AMOS & STUNT RECORDS!
"Instruction Through Film," a brand new compilation of concert performances, interviews, home movies, oddball oddities and more is now on it's way to the manufacturer. In case you'd like to get your order in early, we have also made it available in the Daniel Amos Webstore ahead of the actual release date. Note: This is NOT a preorder. The title is finished and will start to be manufactured in the next couple of days. (Expect shipping to begin in 2-3 weeks). We will ship orders in the order in which they are received... so, those that order early will be shipped first.
This DVD includes many never-before-seen treasures from DA's long history, including performances in the early Calvary Chapel days, interviews, music festival performances, home movies of band rehearsals and road trips, Album cover photo sessions, promotional films, clips from rare short films and more. Songs include: I Believe In You, 'Aint Gonna Fight It, Happily Married Man, Black Gold Fever, Walls of Doubt, Darn Floor - Big Bite, Real Girls, New Car!, Sanctuary, I Didn't Build It For Me and more!
The DVD is "region free," and should play on any DVD player.
»SWIRLING EDDIES NEWS
As you've already heard, the Eddies have been in the studio.. those of you that have preordered have been treated to a special preview track entitled "Giants in the Land." (If you preordered and did not receive this preview, send us a note at audiori@danielamos.com) Preorderers have also been able to spend some quality time on the DA message board with Camarillo Eddy. Keep watching the "Swirling Eddies Secret Funhouse" and all of your wildest dreams will come true. Note: If you have not yet preordered, there is still time to get in on the fun. Any order made at this time will still be considered a preorder.
---
*Summer 2006*
»DANIEL AMOS 30th ANNIVERSARY REISSUE
We're very happy to finally announce that this project is currently being manufactured and should be shipping very soon.
The final release includes one disc featuring the entire album newly remastered, plus "
'Aint Gonna Fight It
" from Maranatha! 5, and "
Happily Married Man
" from Maranatha! Country Roundup. A second disc is also including for additional bonus material, including early home demo and live recordings from the days leading up to and just after the release of the first album. For the first time ever, fans will be able to hear Terry's early solo songwriting demos, as well as his performances with bands like Judge Rainbow and the Prophetic Trumpets, Good Shepherd, Jubal's Last Band.
Here is the final track list for the bonus disc.
1.
Don't Light Your Own Fire
(live) 1977, Daniel Amos . 4:11
2.
Walking on the Water
(live) 1977, Daniel Amos . 4:47
3.
Katy*
3:15
4.
Calvary Road
(demo) 1971, Terry solo . 3:09
5.
New Life
(demo) 1972, Judge Rainbow & the Prophetic Trumpets . 3:20
6.
Cardboard Scheme/Scarlet Staircase/Down Home*
3:37
7.
Walkin With My Lord
(demo) 1971, Terry with wife Debi . 2:27
8.
Knock Knock
(demo) 1972, Terry solo . :58
9.
Heavenly Home
(demo) 1972, Judge Rainbow & the Prophetic Trumpets . 2:11
10.
Love Sings A Song In My Heart
(demo) 1971, Terry solo . 1:50
11.
Jesus Saved My Soul
(demo) 1971, Good Shepherd . 3:45
12.
Expressing faith in music*
3:35
13.
Aint Gonna Fight It
(demo) 1973, Jubal's Last Band . 3:54
14.
The Lost Dogs record Ain't Gonna Fight It*
1:06
15.
The Move/Jubal's Last Band*
1:56
16.
Love Has Open Arms
(demo) 1972, Terry and Debi with Judge Rainbow . 3:40
17.
Resurrection
(Skeptics Song demo) 1972, Judge Rainbow & the Prophetic Trumpets . 2:18
18.
Meal
(demo) 1972, Terry solo . 2:36
19.
The Name Daniel Amos*
3:37
20.
Dear Captain/The Bible
(demo) 1973, Jubal's Last Band . 5:51
21.
William
(demo) 1972, Judge Rainbow & the Prophetic Trumpets . 2:38
22.
Al Perkins*
3:26
23.
Freedom
(Love In A Yielded Heart demo) 1973, Steve Baxter and Jubal's Last Band . 3:40
24.
For Me To Live Is Christ
(demo) 1972, Terry and Debi . 2:49
25.
Jesus Is Still Crying For The World
(demo) 1971 Terry solo 1:55
26.
In Everything Give Him Thanks
(live) 1975, Daniel Amos . 2:59
The collection also includes audio liner notes by Terry Taylor, and previously unpublished photos. Most of you that preordered will also receive an extra gift as a token of our appreciation for your support of this project. Also, keep an eye on the website for some sample sound clips and interview segment downloads!
We're currently preparing envelopes and postage while the project is being manufactured. This will allow us to most likely ship all preorders in one day.We realize that some of you may not remember if you ordered or not, so we created a list for you to check. Each person is listed one time for each CD ordered, so if someone ordered multiple copies, they are listed multiple times. Although this list is primarily for your use, please let us know if you see any potential errors - like your name listed too many times, or not at all even though you did order. If the mistake is simply with the list, we would most likely catch it while filling orders but it's best to be safe and make sure it's not an error with the actual order process. We don't want you getting charged too many times or thinking you ordered if you didn't.
You can find the list
HERE
Report any errors to
audiori@danielamos.com
.
Watch for more Deluxe Remastered Reissues to be coming in the future!
---
»THE LOST CABIN AND THE MYSTERY TREES
The new release from The Lost Dogs, The Lost Cabin And The Mystery Trees, is finished. Be sure to catch the Dogs on tour this summer and pick up a copy. As always, you can find the latest tour dates and other information at www.TheLostDogs.com . Upcoming tour dates include performances in Longview, TX, Bushnell, IL @ the Cornerstone Festival, Rensselaer, IN, Roxana, IL, Aurora, IL, Washington, PA, Baltimore, MD , Everett, WA, Bremerton, WA, Mountlake Terrace, WA , Winston, OR, Portland, OR, Sacramento, CA, Oakland, CA and San Bernardino, CA. We also encourage you to join the official Lost Dogs announcement list if you haven't already. The signup page can be found on the link below as well as on the main page of the Lost Dogs website.
CLICK HERE TO JOIN
And now a few words from Terry Taylor on the new album...
"Hindalong told me on the phone the other night that this may be the best record he's ever participated on. 'Really?' I said with a laugh. I was waiting for the punch line. It never came. I think he might be right... at least it's right up there. I got teary-eyed listening to the rough mixes when I got back home from Nashville - not because it was sad music, (in fact, a couple of tunes are screamingly funny) but because some great friends had come together and created a true thing of beauty. I hope you guys like it. We worked hard to make it happen, but believe me when I tell you that you're all worth it." - Terry Taylor
As always, thank you for your continued support of Terry Taylor, Daniel Amos, The Swirling Eddies and the Lost Dogs. If you are not on the Official DA announcement list, please subscribe
HERE
---
*Spring 2006*
»"DANIEL AMOS" DELUXE REISSUE (JUBAL'S LAST BAND) Preorders
This title was finally ready to roll not long ago, but something unexpected happened. A tape was discovered that is the master of some of the early demo recordings that we'er using on the bonus disc. There was also some songs on this tape that we didn't have in any form before. So, we had that tape restored as quickly as we could and began to retool the bonus disc. The discovery of this tape was very significant. It actually means a MAJOR quality improvement over almost every song on the bonus disc. It also means incouding a few tracks that we could nto include before.
The main thing that is left to do on this project is just getting a final track list approved and getting the bonus disc mastered. We do not expect either of these things to take very much time. We are all more than aware of how long everyone has already waited and are trying to keep things moving as fast as possible. We do however think that you will be very happy with the new version of the bonus disc. Terry should be hearing the new version of the bonus disc soon. Once he does, he'll let us know if he's ok with it the way it is, or if he needs some minor last minute changes. Either way, we should be very close to finalizing this part of the project and getting it mastered. Our goal is to have it finished and preorders shipped well before the upcoming Lost Dogs tour.
Watch the DA website for sample soundclips & interview segment outtakes soon.
»NEW PROJECT FROM THE LOST DOGS & RETURN TO CORNERSTONE
The Dogs are once again hard at work on a new project... a tour is currently being booked, so watch www.DanielAmos.com and www.TheLostDogs.com for up to date tour info.
Mark your Calendars! The Lost Dogs will be returning to the Cornerstone Festival on Wednesday, July 5th followed by a must-see performance by the 77s!
---
*Summer 2005*
»THE LOST DOGS ISLAND DREAMS & TOUR DATES SUMMER 2005!
The Lost Dogs (Terry, Mike Roe of the 77s, and Derri Daugherty of the Choir) are hitting the road again in just a few days in support of their upcoming project, "Island Dreams." The Choir's Steve Hindalong will once again be joining the guys on percussion. Keep an eye on the Lost Dogs website for up to date info on these shows (
www.TheLostDogs.com
)
»THE MAKING OF MR. BUECHNER'S DREAM
This long awaited DVD release is finally being manufactured and is expected to be in stock by July 1st, 2005. (As a reminder, this is NOT a preorder title. No one has ordered this yet).
The "making of" film is over 80 minutes long and includes never before seen footage of the Buechner's Dream rehearsals, the studio sessions at the Fabulous Green Room and the concert stage. For the first time ever, DA fans can watch the band at work.. crafting lyrics, working out chord progressions and guitar solos, and more. Special features include DA's internet-only prerelease single, "Nowhere is Someplace," and a live concert performance from the 2001 Legend's Tour.
»DANIEL AMOS / JUBAL'S LAST BAND
This (also) long awaited release should be in our hands shortly after the Buechner's DVD. It's been a long, difficult road trying to finish this one up but we are pleased to announce that work on this reissue is finally wrapping up. We will announce the release/ship date very soon. If you're having trouble remembering whether or not you preordered this title - we will also be posting a list of preorderers on the website.
Thanks too all that have supported this project.. it is happening because of your preorders.
»LARRY "LUCY, I'M IN LOVE"
The brand new release from original DA bassist Marty Dieckmeyer and Citizen Joe cofounder, Glen Lystne is now available at the DA webstore.
12 tracks of Acoustic Rock with an Americana flavor. Larry's songs deal with some of the basic facts of life: Love; money; therapy & God.
If you like Tom Petty grooves with a strong back beat, melodic harmonizing melodies (not Carpenters!!!), simple distorted guitar parts (not hard, heavy overpowering), well thought out lyrics, keyboard support and a professionally well produced CD, then buy this Larry CD. Marty and Glen's mutual love of music found themselves assisting each other on each others project. The result is this well written and recorded collection of acoustic rock tunes recorded in their home studios. With help from Dave Raven, joining in on drums, and Marty's tasteful bass parts, the groove was set for the melodic vocals of Glen Lystne and the simple crunchy guitar parts. Glen's love of the B-3 is tastefully interlaced on various tracks. With help from Bob Salcedo's (Jackson Brown, Sheryl Crow, Wall Flowers) in the final mixing department, the production is punchy, clean and professionally done. "It's difficulty these days to want to perform and record music while being married with kids, keeping a job, having a relationship with God, and staying in love with one woman. These songs represent that struggle, one I'm sure many can relate to".
»CATSCRATCH UPDATE & PREMIERE!
Like cartoons? Not long ago, we announced that Terry, Rob Watson and Dave Raven were hard at work on the soundtrack for a Doug TenNapel/Nickelodeon project called "Catscratch".. Now, you can watch a "Catscratch" preview at the Nickelodeon website.
Click here to visit Nickelodeon!
Catch the premiere of "Catscratch" Saturday 7/9 @ 8/7c only on Nick!
As always, thanks for your continued support of Daniel Amos, Terry Scott Taylor, the Swirling Eddies, the Lost Dogs, etc.
---
*September 2004*
»Daniel Amos/Jubal's Last Band reissue update!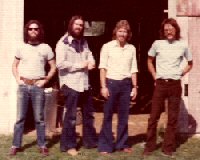 Some "new" potential bonus track material has been discovered.. we're currently going over those newly discovered tapes to see if theres anything worth using. The artwork is also being finalized and a few changes are being made at this moment. Please keep watching this page and the message board for updates.
we realize that the wait has stretched out a lot longer than any of us had expected, and we apologize for that. However, I think the finished project will be well worth the wait. It is our hope that this will be the first in a series of remastered reissues of out of print material.
»Terry included on new Andy's Angels release!
Terry has recorded some vocal tracks for "Come as a Child II," entitled ""Like an orange to a child." For more information, visit our friends at
www.andysangelsrecords.org
---
*May 2004*
»EARLY DA RECORDINGS TO BE RELEASED!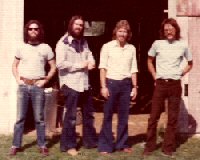 For the first time ever, early recordings will be made available of Jubal's Last Band, the band that eventually evolved into Daniel Amos. These tracks are expected to be a part of a Deluxe Reissue of the first Daniel Amos album and will also include other never before heard early demo and live recordings. Visit the webstore to order now. (Note: We are going to try to keep this release at the low price of $15. If for some reason we have to adjust the price later, anyone that orders at $15 will receive the CD at the $15 price. )
»NEW OFFICIAL DA ARCHIVES AUCTION!
This is an extremely rare complete set of original promotional posters from all four of Daniel Amos' Alarma Chronicles- Alarma, Doppelganger, Vox Humana and Fearful Symmetry-signed and dated (5-20-04) by Terry Taylor himself. The posters are not mint condition. They have some wrinkles, some original fold marks, some scotch tape marks and some thumbtack holes, but they are in good condition and the fact that the set is complete, signed and comes from Terry's personal archive makes this a truly one-of-a-kind auction.

Winning bidder pays for shipping. The posters will be rolled and shipped in a sturdy cardboard tube.
Click Here or on picture to bid
---
*March 2004*
»THE SWIRLING EDDIES RETURN!
Immediately following the massive success of their pop crossover hit release "Sacred Cows," the Swirling Eddies retired to the island retreat they had purchased with the well-earned fortunes acquired from that ever popular album. At the time, it seemed like the perfect way for the Eddies to go out with a bang - O, and what a glorious bang it was. Nevertheless, the Eddies soon found themselves longing once again for human contact and the love and adoration that life in the limelight had always brought them.
Sure they had started up friendships with the various pelicans and the many turtles of the island, but that just wasn't the same. Plus, it seems that animals just don't appreciate the Eddies music the way the human fans do. For starters, they didn't always have to tie the human fans to a pole to make them listen, and the human fans only occasionally tried to pull their heads, arms and legs inside their hardened outer shells. Additionally, the numerous double albums and feature films the Eddies created targeting the turtle and bird population ended up being a major financial disappointment.
Camarillo and the rest of the Swirling Eddies have decided to treat you - their human fans - to a new full length Swirling Eddies album, with an added Bonus to those that preorder now at the price of $20 per CD. Those that preorder the album now will receive a special one of a kind password to a secret website page which will contain an exclusive downloadable Swirling Eddies EP, featuring demos, rough mixes and other unique "works in progress" tracks from the upcoming album, before it is released. (Note: The password and link will be sent at a later date, when the "works in progress" tracks are available).
Individuals that preorder 500 or more copies will receive a special, gold plated, chicken size replica of the original Let's Spin! Tour bus - hand painted and chiseled in marble (or whatever material is available at the time) by Camarillo himself (while supplies last, and the good Lord willin').
Fun is guaranteed for all!!
Preorder Now
- lets get the Eddies back in the studio!!
*The proceeds from the preorders will actually be used to produce the new album. The Swirling Eddies would like to thank you for your continued support.The release date for the New Swirling Eddies album in undetermined at this point. Updates will be as frequent as possible. Keep watching the DA News list, the DADL, the DA message board and the DanielAmos.com News page for more information about this project and other special releases.
---
*November 2003*
»DANIEL AMOS LIVE IN ANAHEIM 1985!
The new live DVD is being manufactured as we speak. We're told that we should have them in hand by the end of November or first week of December. This should be early enough that those of you ordering the DVD for Christmas will receive it before the Holidays. If there are any delays, we will post full details here, on the store page and on the message board.
The DVD is nearly 90 minutes of live performances from a November 1985 show in Anaheim California.
»DR. EDWARD DANIEL TAYLOR'S PERFECTLY FRANK TRUE STORY OF CHRISTMAS!
Also now available for preorder, a brand new mini-sermon from the good Dr. Taylor, hastily recorded from the back of the Prickly Heat World Ministries Limousine so that it could be available to you in time for the Holidays. The first 100 discs will be blessed and autographed by Dr. Edward Daniel Taylor himself. (Please include the name of the person receiving the CD, if it is different than the person placing the order).
»TERRY TAYLOR HEADS TO THE 31st ANNUAL AMERICAN MUSIC AWARDS!
Terry will be attending the
AMA
's this Sunday night, November 16, 2003 (8pm-11pm ET/PT on ABC-TV). Tune in and watch for your Uncle Terry, sitting somewhere near Ed McMahon, Weird Al Yankovic, and Glen Campbell.
---
---
Join our email announcement list to keep up to date on the latest
news, website updates, and concerts:
Subscribe to the Daniel Amos Email Newsletter
DAnews archive
---
Old News Archive
---