Daniel Amos Message Board (http://www.danielamos.com/wbb2/index.php)
- DA Related Discussion (http://www.danielamos.com/wbb2/board.php?boardid=4)
-- Upcoming Releases (http://www.danielamos.com/wbb2/board.php?boardid=22)
--- Terry Scott Taylor - Swine Before Pearl, vol 2 (http://www.danielamos.com/wbb2/thread.php?threadid=13465)
---
Posted by audiori on 01-15-2011 at

17:03

: Terry Scott Taylor - Swine Before Pearl, vol 2

A VERY SPECIAL VALENTINES DAY ANNOUNCEMENT FROM TERRY SCOTT TAYLOR:

For a limited time your loved one can experience the surprise and joy of having their very own personalized Valentine song written and performed by Terry as a Valentine Day gift from you!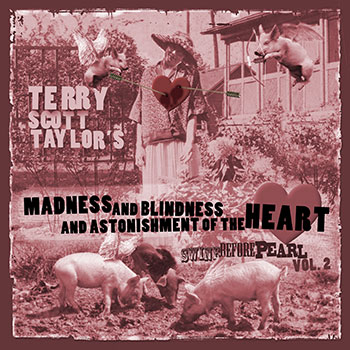 Pre-orders for Terry's very latest release
Madness and Blindness and Astonishment of the Heart 'Swine Before Pearl' vol.2
are now being taken. MBAH is an eclectic collection of Terry's love songs, past and present, and among it's many treasures you'll find digitally remastered classics, solo performances, live cuts, and much much more. It's a collectors must for Terry Scott Taylor fans, and for those who would like a personalized Valentine's day song, you will not want to miss this limited time only opportunity. ORDER YOURS NOW IN TIME FOR VALENTINES DAY !
As as a special bonus, all customers ordering this collection between now and January 28th, will be entered in a special drawing to receive a Valentines Day phone call from Mr Terry Scott Taylor himself.
In order to increase our chances of getting your order to you in time for Valentines Day, please have your order in no later than January 28th.
When ordering the Deluxe Edition, send us a brief note to describe the inspiration for the personalized song. You can include this information in the "Special Instructions" box on your order form, or send it to us in an email at This Address. Put "Swine2" in the subject line to make it easier to pick it out in our inbox!
To help Terry personalize your song, please choose one of the following options:
Option 1) Tell us who you would like the song dedicated to and supply us with related personal information such as the following:
a) The names of you and your loved one and the nature of your relationship
b) If husband and wife, the number of years married
c) When, where, and how you met
d) Any other personal information that might be useful such as the names of children, romantic moments in your lives, favorite songs, movies, books, vacation spots, etc.
These are only a few suggestions, so be creative!
Option 2) Write a personal dedication to your loved one which Terry will include in the song. This could be either a very brief dedication or you might tell a short personal anecdote. Again, be creative!
(Note: Since we're so short on time this time around, we'll be sending you an mp3 of your personalized song instead of having it appear on the disc.)
Visit the webstore at
www.DanielAmos.com
to order now
---
Posted by DwDunphy on 01-15-2011 at

17:42

:

Already?!
---
Posted by Ritchie_az on 01-16-2011 at

07:15

:

I've yet to get Swine, now Pearl is coming? Gosh, I need to catch up!
---
Posted by Eis on 01-16-2011 at

07:24

:

Cool. Quicker than I thought...excited to hear what's coming.
---
Posted by DwDunphy on 01-16-2011 at

15:08

:

Before people think I'm complaining, I'm not. Terry has always been prolific; it's nice that he has a stable concern with which to channel it (beside the Dogs, of course).
---
Posted by audiori on 01-16-2011 at

19:28

:

I don't think anyone would take it that way... it is an unusually quick followup to a release.
---
Posted by brother joel on 01-17-2011 at

11:20

:

Will this version also have the option for a personalized song? I am wondering if that option will be a regular offering on all swine before pearls releases.
---
Posted by Audiori J on 01-17-2011 at

11:33

:

I believe Terry wants to do that again. Not sure if it will always be an option, these are pretty much just little personal things based on whatever Terry wants to do.
---
Posted by audiori on 01-18-2011 at

22:12

:

updated...
---
Posted by Ritchie_az on 01-19-2011 at

07:38

:

Is it too soon to have a list of some of the songs?

Well, I could probably guess at least a few....
---
Posted by jyroflux on 01-20-2011 at

01:28

:

I'm going to order, but it would be cool to see a partial song list at least.
---
Posted by audiori on 01-20-2011 at

08:05

:

Terry's going through stuff and doing some recording as he is able.. I'll get a list as soon as I can.
---
Posted by Brent17 on 02-02-2011 at

09:33

:

Any update on tracklisting for Swine 2?
---
Posted by Paul on 02-04-2011 at

00:35

:

It's only 10 days before Valentine's Day. I kinda like the element of total surprise. After all these years, let's sit back, relax, and trust. Let Uncle Terry play cupid among us and our loved ones, and hopefully his songs will soften our hardened hearts.
---
Posted by audiori on 02-08-2011 at

00:58

:

Its taking its final form as we speak.... maybe something definite tomorrow. Some weird mixes.. some live stuff.. some demos I think... some newly recorded stuff... should be another good mix. Derri even made a new mix of an Eddies track for us.

I'm going to ship these early copies to folks directly from the printers. That should save us some time. The MP3s should be going out soon also.
---
Posted by audiori on 02-09-2011 at

00:18

:

Some Track Titles....

Album intro

My Valentine (new)

Broken Ladders (Acoustic)

Sweet Companion (Acoustic)

When Worlds Collide (Acoustic)

Blowing Smoke (Acoustic)

Loveland (Acoustic)

It's Only Love (new)

You Ring My Bell (new)

Madonna Inn (2011 remix)

Divine Instant (Alternate)

UFO (DA unreleased)

Happily Married Man (Live)

If You Want To (Live)

Our Night To Howl (rough)

Love Chapter

Maybe All I Need (2011 remix)

Your Thief (demo)

I Love You #19 (demo)

Tracking The Amorous Man (rehearsal)
---
Posted by Brent17 on 02-09-2011 at

10:37

:

Looks awesome!
---
Posted by brother joel on 02-09-2011 at

11:07

:

The track list looks great so far! I will most likely be ordering this in a month or two when I have a little bit of flex money (after tax return). Here is hoping the sweet sounds carress my ears sooner. I truly enjoyed the first volume in this series!
---
Posted by audiori on 02-10-2011 at

00:25

:

I think the only changes on the final track list are the additions of "Ditto" and "My Cardboard Box." So, its now 22 tracks.
---
Posted by audiori on 02-11-2011 at

09:32

:

Forgot to mention that this is shipping now by the way. The early orders are all shipping directly from the printers.
Forum Software: Burning Board 2.3.6, Developed by WoltLab GmbH