Daniel Amos Message Board (http://www.danielamos.com/wbb2/index.php)
- DA Related Discussion (http://www.danielamos.com/wbb2/board.php?boardid=4)
-- Upcoming Releases (http://www.danielamos.com/wbb2/board.php?boardid=22)
--- Custom Swine Special (http://www.danielamos.com/wbb2/thread.php?threadid=13671)
---
Posted by audiori on 05-01-2013 at

22:03

: Custom Swine Special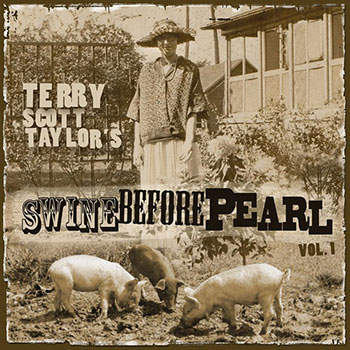 This came up once before but after talking with Terry about it recently, it might actually be something he would like to do. Obviously, I'll do a more formal survey if this thing gets off the ground.
For those of you that received a customized Swine Before Pearl, vol one - would you be willing to authorize your track's use on a special limited edition custom Swine collection?
For everyone - would you be interested in purchasing a CD of all of the custom Swine Before Pearl tracks? (These are the tracks that Terry wrote specifically for each person).
---
Posted by brother joel on 05-02-2013 at

10:54

: RE: Custom Swine Special

I would most likely be interested if people are willing to share their gift with others. I might want to hear small samples or read the lyrics beforehand, but most likely I would buy them.
---
Posted by Audiori J on 05-02-2013 at

11:15

:

We heard them when we put the disc together, some are pretty funny and some are quite touching. A couple people gave almost no information about themselves, so Terry struggled with what to write. They are a good example of Terry's talent and how he can go in any direction with this stuff.
---
Posted by John Foxe on 05-02-2013 at

15:53

: You bet

Love to. With the delays in between releases, absence makes the heart grow fonder, and since I have (and intend to) buy almost everything Terry touches, this will be no exception.
---
Posted by Doke on 05-02-2013 at

20:02

:

I would be in for a purchase, and would be fine to have my song be part of the compilation.

Thanks!
---
Posted by lobo1023 on 05-03-2013 at

07:09

: Sbp

I'm in on both accounts.
---
Posted by Captain Pedantic on 05-03-2013 at

18:00

:

I bought a CD (thrice) that had him gargling in the shower, so yeah I'd buy the custom CD.
---
Posted by Ron E on 05-04-2013 at

20:18

:

As long as everyone who paid that money to have that released is in, then sure, I think I would love to hear some of those songs. Assuming they don't all sound the same, "I'd like to teach the world to sing" with different lyrics for each person? Maybe then, just a lyric sheet for 2$ and as SASE.
---
Posted by audiori on 05-04-2013 at

21:29

:

They're all pretty well different... it was astounding what Terry was able to do with them.

And, yes, we consider the people that commissioned the songs to be the "owners" - especially considering the fact that some contain personal information. So everything will be done with their permission if it's done at all.
---
Posted by Eis on 05-21-2013 at

21:20

:

I'd buy, and am cool with "my" song being used.
---
Posted by Mike Beidler on 06-29-2013 at

16:22

: RE: Custom Swine Special

I'm in for a collection of commissioned songs! I bust a gut laughing at mine.
---
Posted by WoaaahJelly! on 09-07-2019 at

16:09

:

Did we ever do this one?
---
Posted by joey on 09-09-2019 at

16:04

:

i have it, yeah..
Forum Software: Burning Board 2.3.6, Developed by WoltLab GmbH