Daniel Amos Message Board (http://www.danielamos.com/wbb2/index.php)
- DA Related Discussion (http://www.danielamos.com/wbb2/board.php?boardid=4)
-- CD & DVD Reviews (http://www.danielamos.com/wbb2/board.php?boardid=29)
--- DA ~ Doppelganger Deluxe Edition (http://www.danielamos.com/wbb2/thread.php?threadid=13789)
---
Posted by audiori on 09-18-2014 at

15:16

: DA ~ Doppelganger Deluxe Edition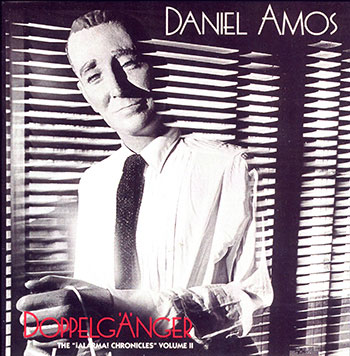 Here it is folks! What you've been waiting for! DA's classic Doppelganger album in an expanded 2-CD Remastered Deluxe Edition!
The Stunt team has put the same care and enthusiasm into putting this project together as you've seen from the previous DA Deluxe Edition releases. Disc one of this collection presents the entire Doppelganger album, carefully and respectfully remastered by J Powell at Steinhaus. Disc two includes 17 bonus tracks, including alternate versions of album tracks that have never been heard before by the public, alternate mixes, early takes, and more! The beautiful 6-panel Digipak and 24-page booklet presents all of the original LP artwork, along with never-before-seen photos, DA memorabilia, complete credits and lyrics and the entire text of the Alarma! Chronicles Volume II.
Order now at
www.DanielAmos.com
!
...and, don't forget! Our friend Riki Michele Bunch Palmer only has 33 hours left on her Kickstarter project! Please do consider supporting our dear friend!
http://kck.st/VDcSxA
---
Posted by TrashMan on 09-18-2014 at

23:06

: RE: DA ~ Doppelganger Deluxe Edition

I just ordered! This is the 2nd of the Alarma Chronicles to go deluxe. I have the full box set, but the deluxe versions are cool for the extras, comments, and packaging. I look forward to more deluxe of anything from DA!
---
Posted by gowensby on 09-21-2014 at

14:24

:

Will the bonus disc be available on Bandcamp?
---
Posted by audiori on 09-21-2014 at

15:13

:

If anything, it'll be like Alarma where there will be an alternate set of bonus tracks available on Bandcamp, but not the disc that comes with the 2CD set.
---
Posted by fidough on 09-23-2014 at

19:23

:



---
Posted by jparker on 09-24-2014 at

08:48

:

Nice! When might the bandcamp bonus stuff surface?
---
Posted by haveapez on 10-30-2014 at

09:19

:

Hadn't been to the forums in a while, so I didn't realize this was out. Ordering immediately. One of my favorites.

And I ordered the Alarma cd as well.
---
Posted by wayneb on 01-21-2015 at

14:30

:

Mine just arrived! Thanks for a great release. It sounds awesome - great, tight bass and drums are very much nicer than the original vinyl.

Deluxe Vox Humana on the way, perhaps??
---
Posted by Jimmy Brown on 08-04-2017 at

07:27

:

Weren't the original bass and drum tracks recorded in a warehouse?
Forum Software: Burning Board 2.3.6, Developed by WoltLab GmbH